Some links on Turning Left for Less pay us an affiliate commission to support this blog
Today's reader review comes from regular contributor Jason. Also, don't miss his return trip to LATAM.
AM014. Start 8:15 p.m. 8:50 a.m. Boeing 787-9
Registration
Aeromexico primarily uses Terminal 2 in Mexico City with most of its SkyTeam partner airlines. There is a premium check-in area for check-in and we received our boarding passes within minutes. Although there was no priority security checkpoint, the wait was minimal and without outbound immigration at the MEX we were from curb to airside in about 15 minutes.
Living room
The poorest aspect of the trip. I had read reviews online beforehand so I was managing my expectations, but damn it. Terrible. A very cluttered and dark room with no windows and very limited food and drink options. If you had ever been to one of American Airlines' "Admirals Clubs" in the early 2000s, you would have understood.
A neat bar with a few free booze options, the rest chargeable. A few packed snacks with an additional menu with hot items for purchase. Bearing in mind this is the hub of the airline, this is a really poor sight. For comparison, the Aspire Lounge at Liverpool Airport that I had used a few weeks before felt luxurious compared to Aeromexico's 'flagship' lounge in its hub. Needless to say, we were at the gate well in advance.
Boarding & pre-take-off
Mexico is still observing COVID protocols on planes, so these were masks for boarding and travel time.
Boarding was a very orderly affair by group numbers and started right on time. Aeromexico uses its 787-9 on this route, which is a huge step up from the 787-8 (which is on the MEX – LHR route). The 787-9 has a 1-2-1 all-aisle access configuration, the 787-8, while still offering full flat beds, is a 2-2-2 configuration. Any Aeromexico regular will tell you that AM very often swaps between -9 and -8 but as I was traveling with my husband it wouldn't have been the end of the world if they had.
We boarded the plane at gate two and entered the open cabin of the 787 (as in QATAR there is no galley at gate two) and the cabin is very premium indeed. It is basically a carbon copy of the Qatar 787 minus some of the additional customizations installed by Qatar.
The cabin looks like it was delivered to a "generic airline" with very little to make you feel like you're on an Aeromexico plane. There's no branding, no patterns on the bulkheads, very little color – everything being mostly airline standard blue and white. Like the living room, it seems a bit of a missed opportunity, although that could also be down to personal preference.
In my place were a very well-stocked toilet bag, a pair of slippers, nice bedding and a bottle of water. The friendly crew came and offered a drink of water or champagne before departure. Meal orders were taken in the field or in my case my pre-ordered meal confirmed. There are no menus which I found odd. I'm all for saving the trees, but on a modern plane like the 787, if the airline wanted to be eco-friendly (or more likely accountant-friendly), they could show the menu on the IFE.
We were pushed back in time and into the Mexican night sky we were heading south in no time.
On-board service/catering
I will say up front that my expectations were not high on either the service or the catering aspect. I am happy to report that they were vastly exceeded on both fronts. Not having a menu on board, I wasn't sure what kind of service would be offered on board. Given the departure time and the length of the flight, I was guessing some sort of bargain at a dinner platter and possibly a very light breakfast before arrival.
Service was provided by meal cart, which I actually prefer to the "restaurant style" service that other airlines aspire to. First, an airplane is not a restaurant. Second, if an airline does not provide the manpower necessary to perform a manual service well, it is simply inefficient. A tablecloth was laid, and I was offered a drink (I chose a Malbec). A starter of tomato and mozzarella was also presented alongside a cheese platter. A cheese starter served alongside a cheese plate seemed a bit odd, but the presentation was very upscale and I enjoyed the cheese with the wine.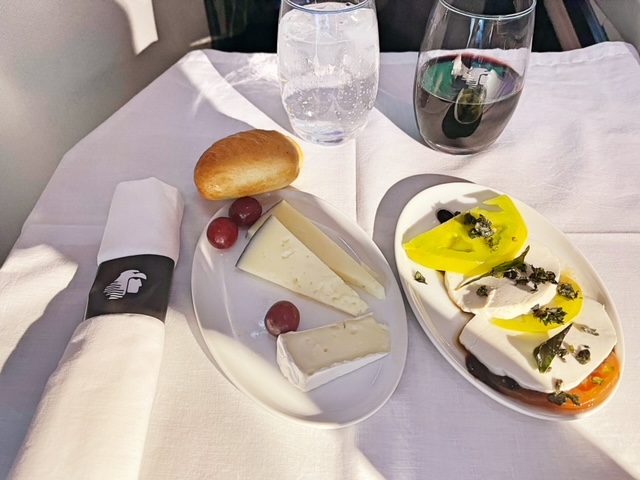 The starter plates were cleared and a platter was then served with the main course and a substantial side salad. I had pre-ordered the beef main course (from an impressive selection of eight dishes available) and it was delicious, tender and perfectly cooked. After finishing my main course and remembering that I had a four and a half hour drive arriving in Sao Paulo, I passed on dessert and reclined my seat. It's worth mentioning that up to this point the seatbelt signal had been on since the start of the flight, although everyone just ignored it as the air seemed perfectly clear.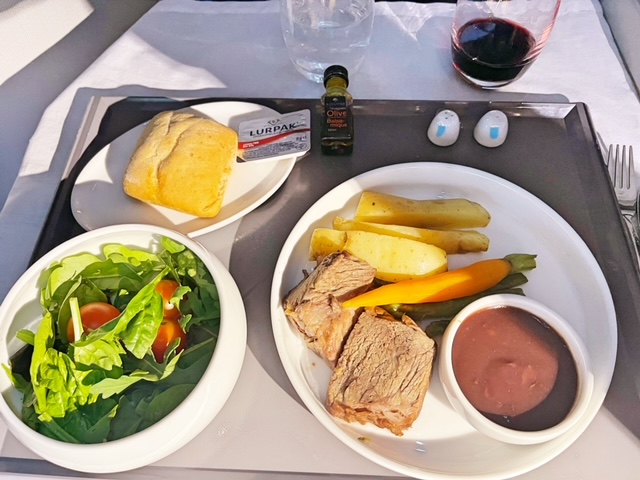 I woke up in the middle of the flight to use the toilets (there are two in the middle of the business class cabin and one in the front) and the bar at door two had been set up with drinks including champagne , sandwiches, and snacks. This was the first time I've seen a bar on board with a standalone espresso machine, although there are no more pods to help you out.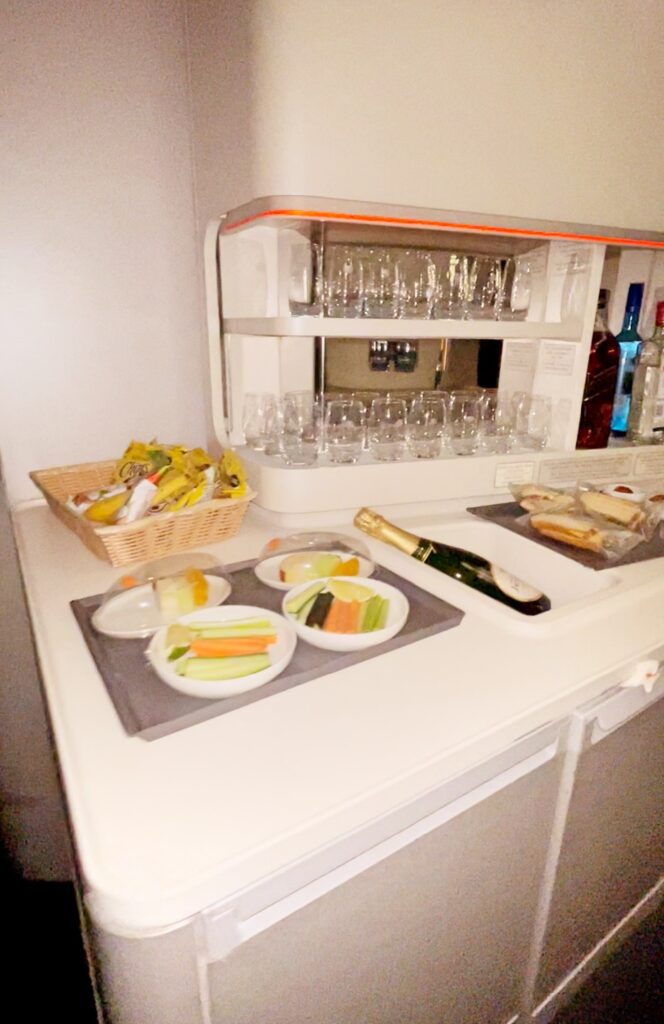 I woke up about two hours before landing and noticed that a good Wi-Fi offering two hours of free browsing had been left at my seat. A nice touch but it would have been great to have received it earlier in the flight.
Breakfast started an hour and forty minutes before landing and it was not the simple pastry and hot drink I was expecting. Rather, it was an impressive selection of fresh fruit, pastries, yogurts and a choice of three main courses – bacon omelet, pancakes or a smoked salmon bagel. I had an espresso with breakfast and really enjoyed it.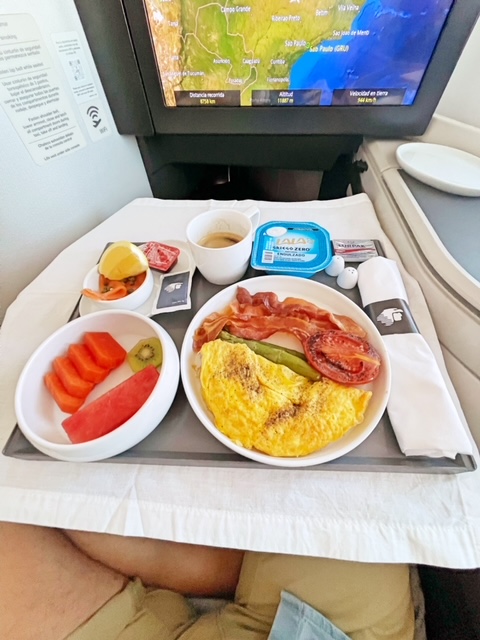 Throughout the flight, I found the cabin crew to be polite, friendly, efficient and service oriented.
Half an hour before our landing, the captain informed us that we had started our descent towards Sao Paulo and that we were on the ground as planned.
Final Thoughts
I was really impressed with my Aeromexico flight, especially the 787-9's beautiful cabin and impressive catering. Everything went on time and the staff was friendly. It would be great if they could introduce menus, even through the IFE screen. The living room was definitely the weakest part of the whole trip. On this trip I also flew with Air France (Paris to Mexico) and LATAM (Sao Paulo – LHR) and overall enjoyed my Aeromexico flight the most.