Cafe Allende manager Roberto Hernandez stands behind the counter, serving customers pan chino of a window that has become hazy from the heat of the fresh pastries inside.
"The idea was to come and study, finish school and work as a technical engineer. But it didn't work like that. It drew me in," he says, pointing to the cafe. "Now this is my life."
Roberto had come to Mexico City as a child, moving in with a sister 20 years his senior and her husband, Jesús Chew, a Chinese immigrant and owner of Café Allende. Welcomed into their family like another son, Roberto worked at the café and spent many evenings with Jesús, learning Mexican-Chinese recipes such as varieties of pan chino, which means "Chinese bread" in Spanish.
Denser versions of the typical sweet Mexican breads you'll find in most bakeries, pan chino harks back to the history of Mexico's Chinese community and the history of joints like Café Allende itself. Jesús, now 80, takes us back to the 1950s, when he first arrived in Mexico City from China. Something in his story echoes Roberto's plans that backfired.
"At first, I didn't like it. [here]Jesus tells us. He was 15 years old and had come to help his father, who had arrived a few years earlier hoping to earn his fortune overseas, eventually buying Allende coffee from a fellow Chinese immigrant in the 1950s. love lost between father and son, says Jesús, describing his father as a hard, difficult man, with a temper, but very educated.
"I didn't have the opportunity to study, but at home there were a lot of Chinese books – very old – of literature, of philosophy," he says, looking back. "So I would come home and take a book and look up the words I didn't know and, even if he was in a bad mood, he would explain them to me."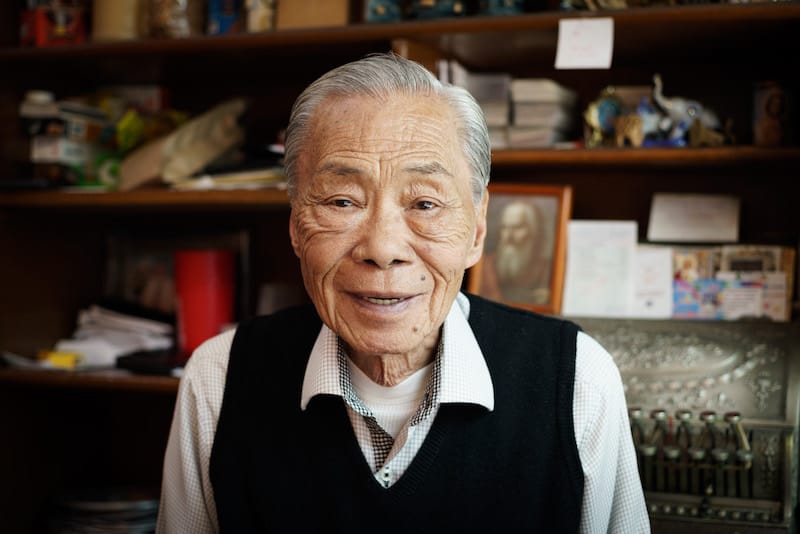 This is how Jesús learned to read Mandarin and Cantonese while studying Spanish. It took him three years to master enough Spanish to interact with customers. When he felt his son could run the business on his own, Jesús' father eventually returned to China. "I wanted to resume my studies, but it was not possible. I couldn't go back. I had to stay to feed my mother, my brothers and my father. Jesús continued to send money home to his family across the Pacific, while running the small Café Allende, located on a busy street behind Garibaldi Square in downtown Mexico City.
Recently arrived immigrants have appropriated Mexican cuisine, adapting local recipes with touches of Chinese influence.
This story is not unlike that of many other Chinese immigrants to Mexico City in the first half of the 20th century, who arrived after waves of migration prior to the late 1800s. Most came as laborers, with no money , without relations or ability to speak Spanish. Many have found work at places like Café Allende, part of a trend of Chino cafes (Chinese cafes) which were small, inexpensive restaurants run by recently arrived Chinese.
The cafes served as a refuge for Mexico City's working-class poor, serving not only immigrants, but also Mexican workers and students, anyone who needed an inexpensive meal in a friendly setting. While the menus included Chinese dishes, the cafes were not Chinese restaurants per se. Their most popular items were Mexican favorites like mexican huevos Where Chilaquiles.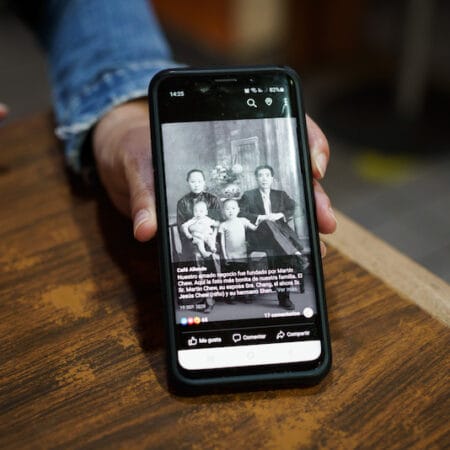 "It was something you could do without having to talk," another Chino cafe owner tells us, explaining why much of Mexico's Chinese immigrant community took up cooking and baking. In doing so, recently arrived immigrants appropriated Mexican cuisine, adapting local recipes with touches of Chinese influence. Their Pan Chino has become the most famous offering, and it is still debated among scholars and cafe owners themselves as to what exactly makes it special. Some say it's clarified pork fat, some say it's premium ingredients, some say it's the excellent Chinese bakers.
"I had a Chinese baker and a Chinese cook, but they were already very old," says Jesús of the beginnings at the café. "The baker was 78 years old [and worked without] mixers – he worked with his hands. The cook was 76 years old and could barely walk, but worked so as not to starve. So I ran the cash register and at the same time I helped to bake bread and cook. A thousand jobs. But we started making a little more money and I was able to send a little more money to my mother and my father.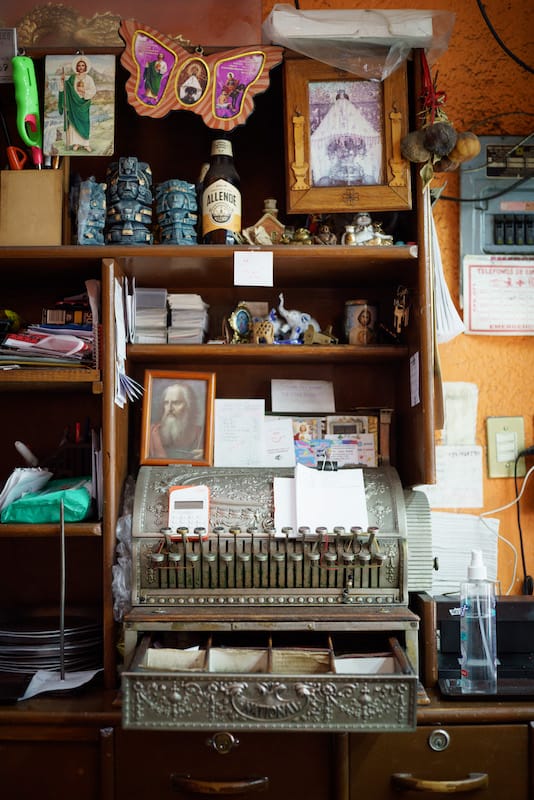 Thanks to Jesús, his two younger brothers were able to study, first in China and then in the United States. One became a scientist at NASA, the other at MIT. Jesús may have had barely enough to survive, but he still sent money home.
"I was alone here. Without family, without anything. I earned a few pesos and sent them to my mother to feed my two brothers, who were still very young at the time. But I made so little money that it cost three pesos to go get my hair cut and… I didn't have any. It was a difficult time."
Fifteen years after running the cafe, Jesús met his wife, Obdulia. She worked as a waitress in her family's restaurant in the neighborhood of St. Maria de Ribera. "I went to a cafeteria for a coffee and I saw a very beautiful girl at the checkout, and… I started going to see her every day," says Jesús.
After several months he worked up the courage to ask her out, and two years later they got married and started running the cafe together. Jesús raised his three children with his brother-in-law Roberto, sending them to college with the money earned at Café Allende.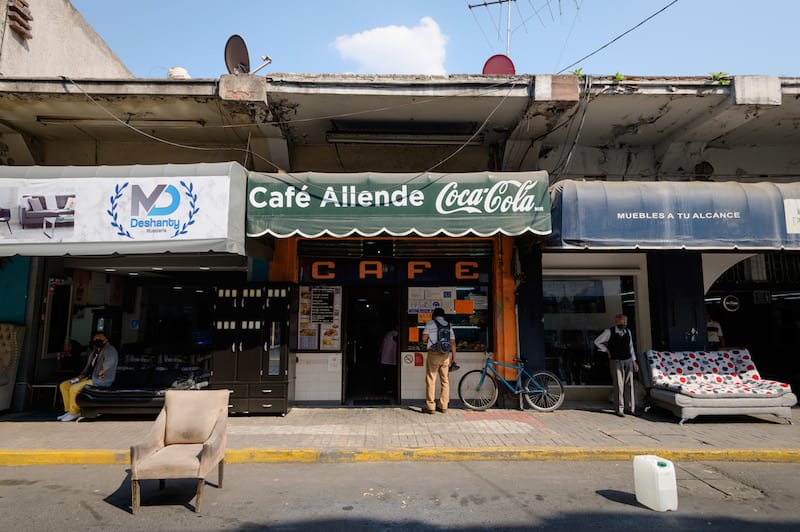 Over the years the cafe has become a neighborhood staple and Jesús knows everyone who walks through the doors. Customers come to greet him on Saturday, the only day he comes to the cafe now due to Covid. the pan chino here continues to be renowned, and even people who have left the old quarter return for a conch or a cookie to take away.
With a menu that no longer includes Chinese dishes, new customers might have no idea of ​​the restaurant's history — one of the last remnants of the wave of Chinese immigrants to Mexico in the 20th century. But sit down for a moment and it's easy to feel the sense of community and family that still pervades this cafe.
February 18, 2022 Bywater Bakery
In the spring of 2017, the Bywater Bakery opened its doors and became something of a […] Posted in New Orleans
January 6, 2022 Strong Bakery
"You can't call yourself Mexican if you don't eat rosca de reyes", jokes Rafa Rivera, […] Posted in Mexico City
June 25, 2021 isco
When friends Paulo Sebastião, Paulo Pina and Paulo Neves decided in 2018 to open Isco […] Posted in Lisbon